At the moment, I'm probably relaxing on my break, taking in the...snow. Ready for another fabulous guest post? Good, because today Ashley (from Two Eyes in the Mirror), with her beautiful pictures and inspiring outfits, is sharing with us her spring essentials. Prepare for spring fever, my friends.
Spring Essential #1: Crop Tops & Bralettes
It's time to shed that winter coat and bare some skin! Crop tops or bralettes with high waisted skirts, shorts, or trousers are perfect and totally appropriate for springtime.
Tip:
If you're not totally comfortable with showing off this much skin, you can always wear your crop top over a dress or tank top.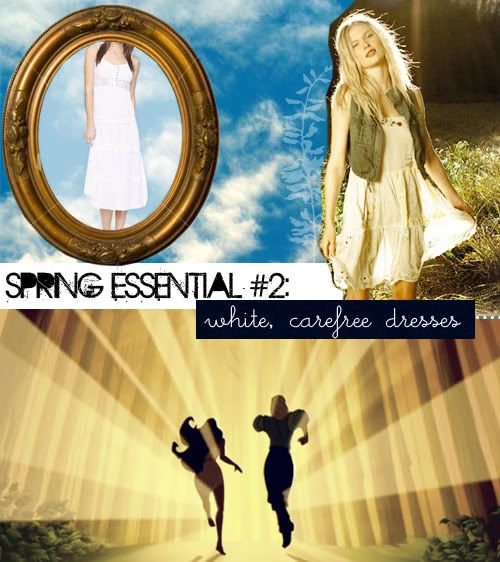 Spring Essential #2: White, Carefree Dresses
Spring is the perfect time to become reconnected with nature. As the days warm up, I find myself wanting to do nothing but taking a long walk, having a picnic at the park, and frolicking about in a big, sunlit forest (not unlike the scene in the animated
Pocahontas
movie!). And what do I want to do all of this stuff in? An easy, earthy white dress. And as an added bonus, think of how versatile a simple white dress can be!
Tip:
If you're going to be outside in it a lot, don't spend too much money on the perfect white dress, since it'll probably get a little dirty. Also, opt for cotton-based dresses, since they'll be the easiest to clean!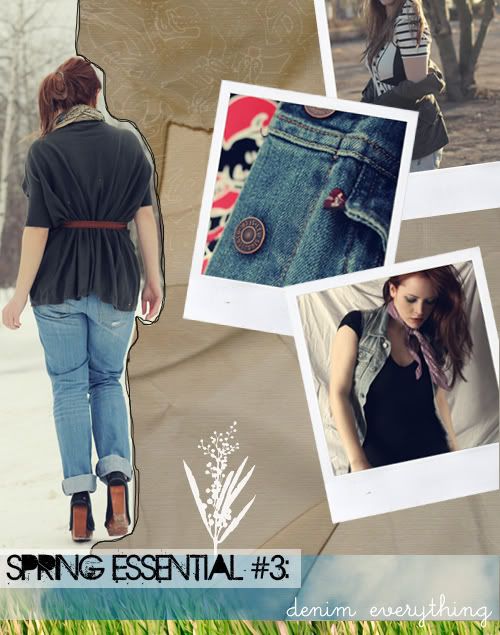 L to R: All personal pictures
Spring Essential #3: Denim Everything
Denim is so versatile, not to mention easy to wear. This season, I'm going to be using it to dress down maxi dresses and florals (so 90s!).

Tip: To save money, check your local thrift stores for some denim steals. I have two denim vests: one was purchased at Levi's for about $70. The other one was found at Savers for a whopping $3.99. Both give off the same rough-and-tumble vibe.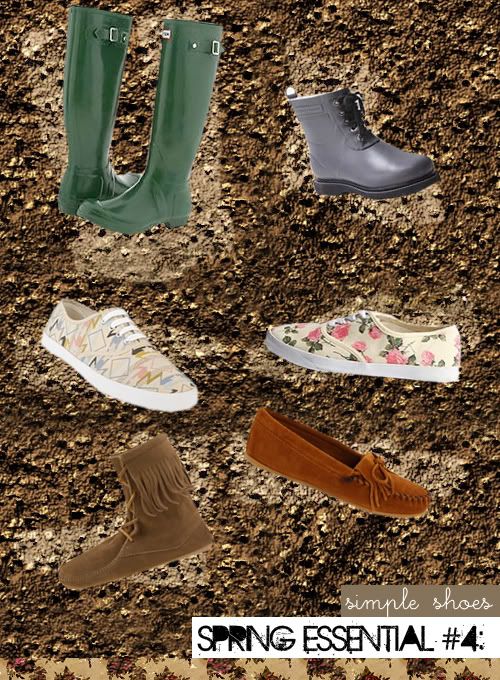 L to R:
Hunter Wellingtons
,
Ilse Jacobsen rainboots
;
Urban Outfitters sneaker
,
Urban Outfitters sneaker
;
Minntonka moccasins
,
Minnetonka moccasins
Spring Essential #4: Simple Shoes
If you live in a climate anything like mine, "spring" is practically synonymous with "the melting of the snow," which translates into "a whole lotta mud." April is going to be all about the easy-to-clean rainboots. By May, I'll probably bust out the cheap canvas sneakers, since they're easy to walk in and can just be thrown away if they get too dirty. Minnetonka moccasins are my ideal summer shoe: they're comfortable, low maintenance, and they go with everything.

Tip: When choosing a pair of moccasins, make sure you get one with a sole. They'll last longer and you will be more comfortable when walking on dirt, rocks, and slippery surfaces.