I'll be back on Wednesday, but here to give her spring essentials is the stylish Ashyln. Be prepared to fall in love with the perfect spring items!
Hello everyone! I'm Ashlyn, author of the blog
Triple Thread
. Kathryn recently asked me to guest post about my spring essentials and of course I was happy to oblige!
Although I have a special place in my heart for every season, spring is definitely the most liberating fashion wise. After being stuck in layers all winter long, I dream for floaty dresses and shorts when the warmer weather rolls around. Every year during spring I start gravitating
towards the same four things without fail. I call these my "spring essentials". Read on to find out just what they are and why!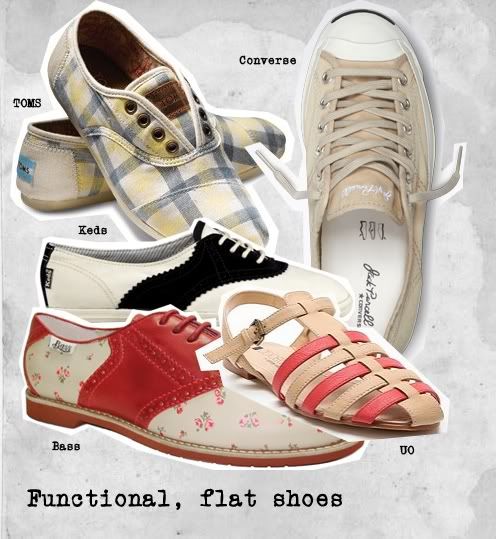 My sense of wanderlust is magnified ten fold as soon as the temperature reaches sixty degrees, and my fashion choices often match these urges to travel and go on adventures. That's why my first essential is both practical and adorable: functional, flat shoes.

With all of the exciting things that are bound to take place during spring, I usually find that there is little time for heels and uncomfortable shoes. But that doesn't mean your feet
(and outfit) can't look adorable! I find it is best to have shoes with a high quality sole and cushioning on the inside to ensure that your feet are happy no matter how much you might be walking.
Another fashion magnet for me during spring is dressing very girly. Although I give in to more of my tomboy tendencies during the winter, spring's blooms make me want to put on the prettiest dresses I own. Thus, my next essential: pretty, printed dresses. Even if my legs haven't seen the sun in three months, the breezy fabric and lightweight feel of cotton dresses call my name!
With all the wandering around I do during the season, I find it is very important to have certain things with me. I usually like to have (aside from the basic cellphone, keys, wallet combination) my journal, a watercolor sketchbook and watercolor supplies, and my camera (sometimes more than one) with me at all times. You never know when inspiration will strike! My favorite thing for carrying all these items is a roomy satchel.
Although my irrational fear of bees sometimes prevents me from wanting to smell too much like a flower, the girly girl that arises during spring wants to smell pretty as well as looking pretty. I associate perfume with certain seasons and phases of my life, and these are the scents I usually spritz during spring. I have tried each and every one and would recommend them all! Luckily my spring essentials make for the perfect combination. Add a dash of adventure and some sunglasses, and I'm sure great memories will be made!